Make Your Body Hair Free With Safe And Effective Laser Hair Removal Treatments
Make Your Body Hair Free With Safe And
Effective Laser Hair Removal Treatments
Make Your Body Hair Free With Safe And Effective Laser Hair Removal Treatments
Make Your Body Hair Free With Safe And
Effective Laser Hair Removal Treatments
Using comprehensive blends of high-performance ingredients such as powerful antioxidants and botanical plant stem cells designed to balance, hydrate, strengthen and protect the skin. This facial helps your skin reach its fullest potential by improving skins' natural balance and establishing a vibrant healthy glow. For all skin types! The S.O.S. facial regularizes the pH level and prepares tissues for other successive treatments. Its name says it all, any healthy skin must essentially be balanced, it is the main objective in all aesthetic treatments to bring back the skin to a normal healthy texture to help prevent premature ageing. active ingredients such a mallow extract, lime blossom tree extract, helichryse, hamamelis distilled water, camomile, orange flower, mandarin and petit grain essential oils, sage, nettle and burdock extract. It is possible and extremely easy to personalize any of your treatments simply by adding essential oil and minerals to this perfect base facial.
Delicate facial using products with natural stabilizing properties that help to restore skin's lost hydration and balance, to safeguard delicate skin. powerful anti-inflammatories and antioxidants condition and protect your skin from environmental harm. Neodermyl, the needle free collagen and elastin booster, leaves skin looking firmer and smoother over time. This mild facial thoroughly yet gently cleanses sensitive skin without stripping natural oils or over drying leaving skin soothed, hydrated and dewy. For sensitive, intolerant skins, and all skins reactive to external and internal aggressions, whether they are normal or oily! Indeed, the sensitivity can affect all types of skin since it is the organ most exposed to various stimuli.
TARGETED BENEFICIAL ACTIONS OPTIMAL PERFORMANCE
Soft cleansing and exfoliating to ensure the restoration and strengthening of the skin barrier.
Protect capillaries and offer a barrier against UV rays to the skin.
Prevent and control skin redness, irritations and sensitivity.
Control oxidative phenomena to soothe.
Recreate the general well-being of the skin and soothe unpleasant sensations.
Banish acne concerns with this extraordinary facial as it works to remove dirt, oil and debris from the skin. using salicylic acid to diminish blackheads and relieve congestion, while restoring a smooth, clear and healthy complexion. BALANCE IS THE SOLUTION using Natural high-performance products that help regulate sebum production, reduce inflammation, purify the skin, refine the grain of the skin rendering it more homogeneous for a mat effect all day long. A specific facial for greasy, mixed and impure skins subjected to an excessive production of sebum, associated with a skin thickening and the proliferation of bacteria that obstruct the follicles, creating black heads or microcysts (white heads).
an excellent investment for all skin types at every stage. Vitamin C infusion energizes the skin as discoloration and visible signs of aging recede through the power of nourishing antioxidants and brightening botanicals. Pollution, smoking, UV rays, incorrect diets and stress are many of the elements that attack and oxidize the skin structures, giving it a dull and grayish tone, causing premature ageing of the tissues. This facial is great for all year round and is designed for both young and mature skins. Using products made of stabilized Vitamin C, integral juice of Calabria oranges, lime essential oil and butter, orange blossom flower distillate, the main objective of this facial is to revive, nourish and illuminate the skin. This nourishing facial will combat free radicals and pollution, repairs cutaneous cellular structures which are essential to the production of new collagen. It protects the skin against collateral damages from UV rays. It is an excellent ally before or after lengthy periods of exposure to the sun to prevent its drying effects on the skin.
A comprehensive facial to brighten as well as even skin tone leaving a luminous complexion. crafted with the powers of brightening botanicals, melanin suppressant actives and the latest in illuminating ingredients such as shiitake mushroom, chromabright, bv-osc and Madonna lily plant stem cell. This facial is a modern approach in the prevention and reduction of uneven skin tone and blemishes. For men and women of all ages, with an uneven complexion colour, dullness, and corneal thickening of the skin. For skin with blemishes on the face, neck and décolleté, as well as the typical senile lentigo of hands. The objective of this facial is the prevention and reduction of uneven colouring and skin blemishes, the regulating of melanin production, the smoothing of skin surface, shield effect against pollution and free radicals. Furthermore, this brightening facial acts on micro-circulation, improving skin trophism and nutrition.
A progressive anti-aging facial to restore youth and infuse vitality. Utilizing innovative peptides such as idealift and cs peptide, along with glycolic acid to encourage collagen and elastin production, reduce fine lines and wrinkles and improve overall tone and texture. Consistency with this facial will leave skin nourished, polished, and more youthful. With the passing of years and already around 30 years old, the cellular metabolism starts to slow down; the skin loses its hydration much faster and it is the beginning of the deterioration of molecules such as the collagen, the elastin and the hyaluronic acid. Skin reactivity, in terms of the continual contraction and relaxation of the micro-muscles that characterize facial expressions weakens. Advanced biological research has recently highlighted cells communication mechanisms at skin level. The keratinocytes in the epidermis communicate with the fibroblasts in the dermis through "messenger molecules" that enable the latter to synthetize the elastin and the collagen to delay the appearance of the early signs of ageing.
Men's skin is thicker and more elastic, but greasier, than women's skin. Its collagen rich dermis will age later but more noticeably and suddenly than feminine skin. It is protected by a thicker fat layer (as it contains a higher density of sebaceous glands and hair follicles) which provides softness and elasticity, but it renders the tissue more subject to skin imperfections. It perspires more which speeds up skin dehydration. Men's skin may appear more resistant but in fact, the excess sebum production which impairs its pH and shaving which affects the skin hydrolipidic film renders their skin more sensitive. The Mascu-skin facial is a simple but complete treatment for men that starts with a proper skin cleansing, followed by an effective protection from daily shaving aggressions and external factors and ends with a targeted high technology anti-ageing action. The active ingredients used during this facial are specifically adapted to the needs of men's skin. The Tetrapeptide-9 stimulates the proteoglycan (Lumican) synthesis which is the molecule responsible for the cohesion between various collagen fibers formation. It stimulates the collagen type 1 synthesis, which represents about 90% of the collagen present in the tissues, to bring back or preserve skin firmness and density.
This facial is flexible in terms of how the procedure goes and what products are being used. Like the name itself, this this facial will focus on any one main concern that an individual may have. It is quick and simple and can involve a focus on extractions, milia removal, spot treatments or hydration! Although these procedures can be a part of any other facial/treatment, this facial will focus on the desired procedure the entire time!
G Spa's Signature Plump & Glow Facial: $199
Give your skin a nourishing boost with our signature facial. Using a blend of nourishing oils to revive dull, lifeless skin. Almond oil is deeply moisturizing and particularly good for drier skin, while jojoba oil has been used as a healing agent for centuries. a host of other botanical oils condition and discourage excess oil production, leaving you with a soft and healthy shine. Protect the skin against all form of pollutants; environmental, digital (blue light), atmospheric or chrono-aging. It gives the skin a visible younger, smooth, even, and radiant appearance where fine lines and wrinkles are diminished. ideal for most skins, even more sensitive skins, Lactic Acid Resurfacer is gentle while actively exfoliating, brightening, and helping to even skin tone. paired with hyaluronic acid, this treatment is the ultimate in gentle yet effective professional treatments. This is an ideal first resurfacer treatment because of its many benefits.
For these facials you don't need to talk about the ingredients etc. You can simply say "they have a variety of facials to choose from to meet the needs of your skin type/condition, they offer a free consultation where their skin care experts will help decide what will suit you best, and they have a specific men's facial called the mascu-skin facial that targets men's skin specifically."
High technology masks formulated with seaweed extracts that provide a powerful hydrating effect, along with diverse active ingredients that are different in every mask. Therefore, we offer a varied collection that meets the needs of every skin type/condition. The unique and pioneering Algae Peel-Off Facial Mask set on the skin with a light and pleasant pressure over the area applied, favoring the penetration of the active ingredients applied during treatment as well as those inherent in the mask. It is possible to apply the mask over the eyes and lips, reaching areas other products fail to reach! A high technology cosmetic which lowers the temperature of your skin improving the general appearance of the eye contour area in addition to firming and toning the skin. Algae Pell-Off facial mask is an exclusive and innovative way to treat your skin.
Electrolyzed hydro jelly masks, made primarily from algae, are new-generation peel off masks. Hydro jelly is emerged algae with new electrolyte technology. Drink more water or applying moisture cosmetics does not always remedy skin dryness. One of the most common culprits of dry skin are electrolyte imbalance. The skin cannot absorb and retain water without the proper balance of electrolytes. The key is infusion of these electrolytes: Potassium, magnesium, sodium chloride, phosphorous bicarbonate, and sodium pyrophosphate. These electrolytes help the skin achieve a natural moisture balance that is essential to keep the skin healthy and beautiful.
Treat yourself with these translucent gel masks that infuse natural extracts, vitamins and collagen all in one treatment. In only 15-20 minutes the ingredients in the masks will gradually absorb into the skin and leave your eyes looking supple and refreshed. Ideally these masks can be used during a standard facial or suited to follow microdermabrasion, chemical peels, laser resurfacing and skin brightening treatments.
Treat yourself with these translucent gel masks that infuse natural extracts, vitamins and collagen all in one treatment. In only 15-20 minutes the ingredients in the masks will gradually absorb into the skin and leave your lips looking supple and refreshed. Ideally these masks can be used during a standard facial or suited to follow microdermabrasion, chemical peels, laser resurfacing and skin brightening treatments. The Red Wine Collagen Gel Lip Mask stimulates skin cell production to provide firmness to the skin. Gold slows down collagen depletion and the breakdown of elastin to plump the lips.
Carbon Mask & Beard Treatment: $30
Ai Chun Bamboo Charcoal Peel-Off Facial Masks is a high- quality facial masks that help skin recover its youthful appearance. Formulated with Vitamin A and E, this peel-off masks revitalize and maintain moisture balance of your skin and deep cleans oil and dirt from pores and allow moisture to be absorbed into the skin. This carbon black full-face masks are also used to remove impurities on forehead, nose, chin leaving a fresh, clog free skin with an ultra-soft touch! Using a Moroccan oil hair Mask Treatment, designed for all hair types. This exclusive formula will protect, strengthen and repair hair that is dry, brittle or badly damaged The combination of Moroccan Oil, Jojoba Oil, Avocado Oil, various Herbs and Proteins will penetrate deep into the hair structure continuing with nourishment and will help slow down any existing damage and breakage. This Hair Mask will restore moisture and balance, leaving your beard feeling healthy and shiny looking. Moroccan Oil is produced from the kemels of the Argan Tree, endemic to Morocco, that is valued for its nutritive, cosmetic and numerous medicinal properties Alcohol free and for all hair types. Creating instant shine and long- term conditioning without a greasy residue. Includes Vitamin-F (Omega 6), Vitamin-A for elasticity, Vitamin-E to protect against free radicals. Phenols to shield against environmental stressors. Renews cell structure and restores shine adding softness to dry hairs.
100% natural, biodegradable, and skin-affinitive cellulose. The concept of infusing beneficial ingredients into skins. The sheet mask forms a sort of barrier that really locks the ingredients in and prevents that evaporation. Used during or AM/PM start by cleansing face and then toning. It helps prep your skin to absorb the amazing ingredients that will follow in the next step. Apply mask to face for 10-15 minutes. After time is completed, dispose mask, and conclude with moisturizer (peptide cream). Improves skin firmness and rejuvenates the skin while decreasing fine lines with a hydrolyzed collagen treatment.
High-frequency treatment uses low-current high-frequency alternating currents, delivered via a glass electrode. Because the high frequency current converts some of the oxygen in the air into ozone, the treatment has a germicidal action, and is also drying and warming. Consequently, the treatment is used to aid healing, and also to help desquamation (the skin's natural exfoliation), and stimulate sweat and sebaceous glands. At up to 250,000 Hz frequency, the hollow glass electrode behaves like a glow discharge tube and is sometime called a "violet ray" or "violet wand", (though the color depends on the gas in the glass). Two electrodes are not required, and sparking may occur when the electrode is close to the skin which clients often enjoy.
Galvanic instrument with direct current and constant intensity. It is used to ease the penetration of cosmetic products and to make deep cleansing treatment.
Experience the ultimate in smooth and hydrated hands with a light exfoliation followed by a Collagen Hand Mask and hand massage. This hand treatment will leave your hands looking/feeling softer, smoother, and healthier.
Neck/Décolleté Treatment $30
Treat yourself with these translucent gel masks that infuse natural extracts, vitamins and collagen all in one treatment. In only 15-20 minutes the ingredients in the masks will gradually absorb into the skin and leave you looking beautiful and glowing. Ideally these masks can be used during a standard facial or suited to follow microdermabrasion, chemical peels, laser resurfacing, skin lightening or as anti-aging procedure to reduce fine lines and wrinkles. Can be used alone or combined with other treatments.
For these add-ons you can just focus on the Carbon Mask/Beard treatment one and say that it helps remove all the blackheads and extra oil the men produce and the beard treatment involves a hair mask application and oils that leave their beard looking soft, shiny and healthy without leaving any residue!
Deep Exfoliating Procedures
(Involve active products as well as mechanical technology)
Glycolic Peel Starting at $69
Detoxifying and resurfacing. Firming. Glycolic acid is the most popular and the most abundant Alpha Hydroxy Acid, found primarily in sugar cane. It is also one of the smallest of the AHA's and the only one proven to penetrate the skin's cellular walls.
primary pumpkin resurfacer was designed to meet the needs of those with acne concerns, congestion and enlarged pores. the antibacterial effect of salicylic acid helps to prevent and treat acne for those prone to breakouts. the lactic acid in this treatment not only adds hydration on a epidermal and dermal level but also improves skin's tone and texture.
ideal for most skins, even more sensitive skins, Lactic Acid Resurfacer is gentle while actively exfoliating, brightening, and helping to even skin tone. paired with hyaluronic acid, this treatment is the ultimate in gentle yet effective professional treatments. this is an ideal first resurfacer treatment because of its many benefits
C-Infusion Resurfacer $89
this antioxidant powerhouse resurfacer brightens and revitalizes resistant skin as it removes layers of sluggish skin cells. vitamin c, lactic acid and a plethora of plant extracts infuse skin tissue with antioxidants and hydrating properties contributing to barrier repair.
Microdermabrasion Starting at $120
The dermabrasion treatment removes dead cells from the epidermis, activates cell regeneration and elasticity of the skin. The exfoliating function eliminates impurities and dead cells and the spatula ensures perfect cleansing of the skin.
CLEAN+ HYDRATE+NOURISH HydraBrasion PRO is a highly innovative treatment that allows a wide range of nutrient carriers and nutrients to be applied during cleaning and hydrating with diamond tips. Active Dermoinfusion: The latest innovation in beauty treatments. This advanced technology system accepts not only aqueous solutions but a great number of different density products such as plasma, gels and emulsions that can transport a larger variety of nutrients for the best absorption to deep layers of skin.
Microneedling Starting at $250
These treatments are a little invasive so it's best if I discuss them in a consult with the client but you can just list them or mention them and say they help with anti-aging, acne, scarring, pigmentation, discolouration issues and texture of the skin etc.. and we have the latest most innovative technology of course!
Microneedling Starting at $250
Microneedling is a cosmetic procedure that we use to encourage collagen production by taking advantage of the body's natural healing response.
This trauma prompts the derma, a deeper layer of skin, to rebuild.
Microneedling may help address many skin-related complaints, including:
wrinkles
scarring
acne
alopecia
skin pigmentation issues
stretch marks
rosacea
loose skin, such as after weight loss or liposuction
At G Spa Laser Clinic we offer safe and effective laser hair removal treatments in order to help our clients eliminate unwanted body hair. We truly care about each client and strive to perform all services professionally to ensure satisfactory results.
It is important to research and educate yourself on laser removal treatments before beginning your journey of being hair free!
Whether you have made the decisions to move forward with laser hair removal or just have some questions or concerns, we would love to speak with you! Please feel free to contact us or schedule a free consultation and we will connect you with one of our Laser Technicians
What is Laser Hair Removal?
Laser hair removal is a permanent solution to reducing and removing unwanted hair by using laser technology. The laser targets pigmentation in the hair and penetrates beneath the skin to precisely destroy active hair follicles.
Benefits of Laser Hair Removal: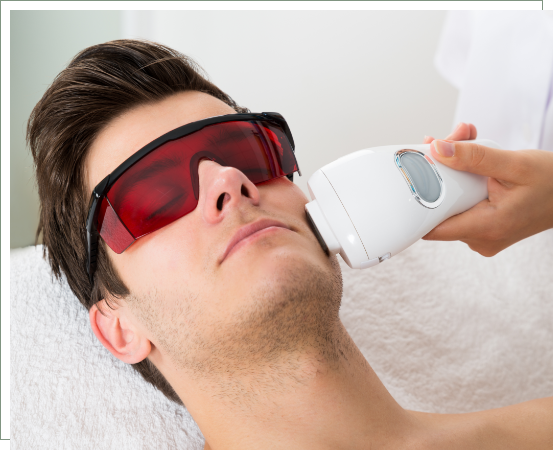 Schedule a Complimentary Consultation
Begin Your Journey Of Being Hair Free, with Just Starting From $20
Frequently Asked Questions:
We are located at the cusp of Woodbridge and Brampton while serving the Greater Toronto Area.
Woodbridge
Bolton
Mississauga
Vaughan Mills
Vaughan
Caledon
Oakville
Goreway
Klienburg
Brampton
Toronto
Etobicoke
Contact us to learn about this month's special promotions.
The girls at G Spa are awesome and the clinic is super clean. Even through COVID, they have managed to maintain their professionalism and make sure the services are done well. Will definitely continue being a customer
myles hemstead
Love this place! The girls are super knowledgeable about the products and services. I didn't know much about laser or skin care and they always answered all my questions and made sure I was comfortable. Super professional yet so friendly they become friends! Must go to spa, you will not be disappointed in their treatments!
Ahkvinder Dulku
I have only wonderful things to say about G Spa. The team is very professional & knowledgeable. I appreciate that we have a treatment plan for my skin but have made tweaks based on how my skin has responded to the sessions. Great follow up.
Neetu B